Credit Card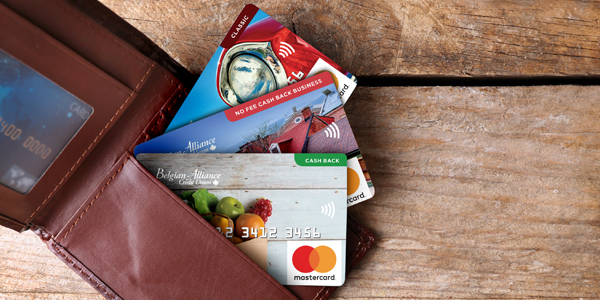 Belgian-Alliance Credit Union is pleased to introduce a new product line of personal and business Credit Union MasterCards® partnered with Collabria Credit Cards. With a wide range of MasterCard® products to choose from, as well as their exciting FlexRewards Program, we are sure you will find a card to suit your needs.
For more information on our full product suite please contact one of our branches or visit our Belgian-Alliance Credit Union Collabria Credit Card site to apply online today.
For any questions relating to card services, you can speak to a Collabria representative at 1-855-341-4643 or contact your nearest branch for assistance.
For any lost or stolen cards please contact:
Within Canada or Us 1-855-341-4643
For International Collect 1-647-252-9564
Please note: Effective July 31,2018 Belgian-Alliance Credit Union will no longer offer CUETS financial MasterCard® or be able to provide support in our branches. If you are CUETS cardholder, please contact CUETS at 1-800-561-7849 for assistance.